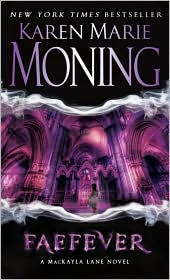 Faefever
is the third book in Karen Marie Moning's Fever series, which I started reading last week. By the time I'd finished both
Darkfever
and
Bloodfever
, books one and two, I was so hooked that I could barely put this one down. I finished it in less than a day!
The Fever series is based on an interesting premise: The walls between Faery and our world are coming down, and the only thing that can fix them is a mysterious book. Small-town Southern-raised MacKayla Lane, coming to Dublin to find out more about her sister's murder, discovers that 1) she can see the Fae, and 2) she is the only one, human or Fae, who can track the book that will save our world.
I highly recommend these books to anyone who loves
Sookie Stackhouse
/
True Blood
, the
Twilight Saga
, etc. — but bear in mind that the fifth and final book won't be out until January 18, 2011!