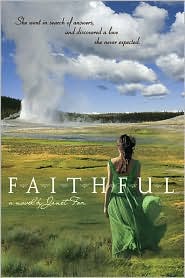 I think most of my readers know that I enjoy reading YA fiction from time to time. Janet Fox's
Faithful
is one of those I came upon while browsing the teen fiction table at Barnes & Noble one evening. It seemed like the kind of thing I'd be interested in.
The story is about a 16-year-old society girl from Rhode Island whose father drags her west to Yellowstone just before her coming out. Suddenly her world of balls, worrying about propriety, and trying to find a wealthy husband is turned on its head. She thinks she and her father are there to find her mother, who disappeared the year before, but it turns out to be something quite different.
The novel has a strong feminist bent, which I loved. As Maggie starts exploring her independence, she starts questioning the expectations of a society girl in 1904. The book is really about two different journeys of discovery: the physical journey she and her father undertake, as well as the inner journey in which she finds out who she really is, and what she wants out of her life.
I tend to really like YA fiction, but I have to admit, I thought this one was better than the usual. Not only was it well researched and well written, it was also a wonderful story that I thought ought to be useful in reminding young girls today that they don't always have to do what is expected of them.