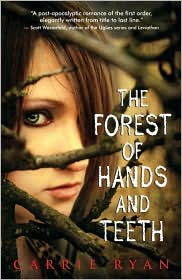 I have a confession to make: I've lived in this house for four and a half years, and I've never checked out the local library. It's a small city library, so I've just continued to use the same library I grew up using, which is still only about 20 minutes away (not to mention close to a bookstore that we frequent).
This is related, loosely, because on Election Day I stopped in to check out the library at last — since I had to drop off our ballots at the civic center anyway. The library was actually really nice, with free wifi and lots of places to sit and read or work on your laptop.
It was while I was there that I spotted this book,
The Forest of Hands and Teeth
. The blurb on the jacket flap reminded me a little of the movie
The Village
, which is what piqued my interest, but I read farther and realized it was a zombie book. It sounded right up my alley.
I started reading the book Monday evening, and read it in pretty much one sitting, taking breaks only to go to the bathroom. Wow! What a book! The suspense was perfect, the descriptions vivid, and I liked that the ending wasn't anything like what I expected. The book kept me guessing and wondering and trying to put two and two together right up to the end.
I also loved that it wasn't a typical YA love story — boy meets girl, boy gets girl, boy and girl live happily ever after. I don't want to spoil anything, but suffice it to say that you will be surprised.
As much as I loved this book, imagine my excitement when I saw that there is a
sequel
, about Mary's daughter! Oh goody! More zombie goodness, coming right up.