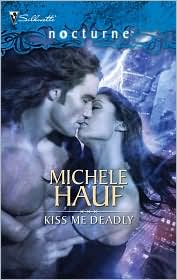 Not long ago, I blogged about reading a romance novel for the first time in years. It wasn't a terrible experience, but I was reminded of how unimaginative some of the plots can be, how much I dislike some of the notions about love that romance novels tend to perpetuate, and (especially) how cheesy the sex can be.
That book,
Beyond the Highland Mist
, was practically Jane Austen compared to this one, though. I downloaded
Kiss Me Deadly
for free from Barnes & Noble — as of this writing, it is still free, if you want to download it using the link below and check it out for yourself. I only read about 20 pages into it, and it wasn't grabbing my interest at all — too trite and not all that well written. Maybe someday I'll finish it and revise my review... but then again, maybe not.