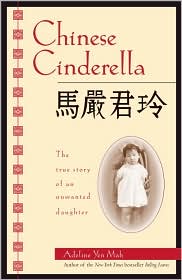 The problem with getting behind on blogging about what I've read is that sometimes it's kind of hard to remember
what
I've read! Especially when I go two weeks without blogging, as I now have.
I read
Chinese Cinderella
a couple of weeks ago. I'd been browsing my library's ebook selection online, and checked out one of Adeline Yen Mah's other young adult books,
Along the River
(which I didn't end up reading before my loan expired, so I'll have to get it out again). When reading the note at the beginning, I realized I'd be more interested in reading the YA memoir, so I found and checked
Chinese Cinderella
out, too.
I like that the author makes an effort to educate the young reader in Chinese vocabulary, names, culture, etc. It's a well-written book, too. Sometimes I felt kind of guarded reading it, because I felt like some of it was the author whining and reading too much into the pranks that siblings often play on one another, assuming that meant she was unwanted. But other times, I felt truly horrified at what happened to her, like with what happened to her duckling, a pet she had as a child.
I was glad when she finally escaped and was able to make a better life for her, and although it wasn't what she
wanted
to do with her life, it did get her out of that situation... and now she is obviously pursing a career as a writer, just as she wanted to as a girl! I related to this, as I was persuaded as a teen that I couldn't make a living as a writer, but found my way back to it anyway as an adult.
It's an interesting book, from a cultural standpoint, and the premise of the wronged little girl is certainly compelling. It's also a pretty fast read. I'm going to check out her adult memoir, though —
Falling Leaves
— as I think that might be more interesting to me than the YA version.