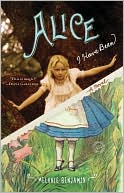 This is another one that I have to thank the library for. I found
Alice I Have Been
while browsing the library's OverDrive selections, and decided to check it out. And boy, am I glad I did!
Alice I Have Been
is a novel about the real Alice in Wonderland — Alice Liddell, the little girl who inspired Charles Dodgson (Lewis Carroll). Dodgson was a professor at Oxford, and Alice was one of the dean's daughters; Dodgson would spend a lot of time with Alice and her sisters, taking their photographs and telling them stories.
I wasn't sure at first whether I would like the novel, but I very quickly got sucked in. It's a tragic story, in a lot of ways — something happened when Alice was 11 that created a rift between Dodgson and her family, and it seems like neither of them ever got over one another. Benjamin's novel takes a stab at what that
something
was, and the result is a deeply moving story that actually made me cry at the end. I rarely cry at novels, so that should tell you something about how amazing this novel is.
I know I recommend a lot of what I read, and the truth is, I
like
a lot of what I read — it takes a lot for me to dislike a book. But I would recommend this one more highly than most. If you are going to read just one book featured on Livre du Jour, this would be the one!