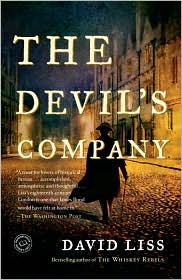 My husband had me check out
The Devil's Company
from the library some weeks ago. He had seen it at the bookstore and been very intrigued. He loved the book so much that he actually bought several of David Liss's other books, and insisted that I read this one.
It's not as much my type of book as it is my husband's, but I have to admit it was a great read.
The Devil's Company
is a mystery, but it is set in 18th century England. The main character is an ex-boxer and what is called a thieftaker, which is apparently like a private investigator with brawn. Everything is very well research, and feels very authentic, and the narration and dialogue feel very period as well.
The Devil's Company
is just one of several books about the same character. In this one, Weaver — the thieftaker — is basically forced into investigating the East India Company. However, he isn't told much about what he is investigating, other than one man's name that he is given — but told he can never speak aloud, only listen for information regarding this man.
Although this is not the type of novel I probably would have picked up on my own, I do enjoy historical fiction, so I ended up really liking it. There is something to be said for letting other people's recommendations broaden your literary horizons!