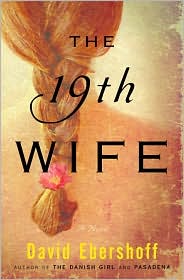 Note: The image link is to the bargain hardback, which is currently the cheapest edition, but won't last long. Get it while you can!
The 19th Wife
was actually a very different sort of novel than what I usually would have read. I saw it in the list of ebooks available from my library, and it seemed pretty popular, so I decided to try it out.
The novel is really two separate stories: a 20-year-old boy who was kicked out of the Firsts (Mormons who still practice polygamy and live in camps away from the rest of civilization) six years ago, and has come back to Utah because his mother has been accused of murdering his dad; and the story of Ann Eliza Young, a real woman who divorced Brigham Young in the 1870s and spoke out again polygamy. Although David Ebershoff gets a lot of the historical material from Ann Eliza's memoir,
Wife No. 19
, and other historical sources in the archives, he stresses in the afterward that her story is fictionalized, and that he has tried to fill in the gaps in her story.
The novel alternates between Jordan Scott's attempts to find out who really killed his dad and clear his mother, and Ann Eliza's story, told as if from her memoir (although, if I understand the afterword correctly, the "memoir" is actually writtenby Ebershoff). Newspaper articles, Wikipedia articles, and other sources are also used, and all of these are written by Ebershoff as well. It's a little confusing to try to figure out what is real and what is not, but it's also a fascinating way of telling a story — and an interesting look at the woes of plural marriage.
I've read a couple nonfiction books on the subject of Mormon polygamy, so I guess you might say the subject interests me a little. If you are interested, the books are
God's Brothel
, a collection of stories by Andrea Moore-Emmett of various women's experiences as plural wives, and
Shattered Dreams
, a memoir by Irene Spencer. Both books are well-written but shocking to anyone who doesn't know much about polygamist culture, or that it still goes on today within the confines of our supposedly civilized country.
While I was reading
The 19th Wife
, I also downloaded (free from Barnes & Noble, via Google books) Ann Eliza's actual memoir. It would be interesting to read her story as she originally intended. It's a shame we don't know what actually happened to her.
Although a large part of this book obviously took place in present day, I am labeling it as historical fiction, simply because Ann Eliza's story is so central to the novel. It's a long novel, and I found the jumping back and forth a little confusing at first, but I ended up really enjoying it!