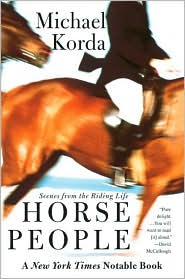 I haven't had much good luck with touchy-feely horse memoir-type books.
The Man Who Listens to Horses
(Monty Roberts) and
A Girl and Five Brave Horses
(Sonora Carver) were both really good, but then I read a bunch of somewhat disappointing collections of stories, such as
Hope Rising
and
Horse Crazy
. I guess maybe the difference is that those are more of feel-good "gift book" type books that you buy for someone who likes horses, rather than something a horse owner buys for themselves.
Anyway,
Horse People
was a different sort of book. It is written by an editor in the book publishing business, about his experiences as a horse person over the years. He has some really funny stories, such as when the author of a book he had edited assumed he was a much better rider than he was, and took him on all of these daredevil rides during a short visit — knowing that I'm not a great rider myself, I could really relate to the hysterical stories of all the near-misses he experienced during that visit.
He writes about a much different horse world than what I know — the East Coast seems to be a bit different than out here in the West — even though many of us still ride English (including me), I don't think it's as
intensely
English. He also writes a lot about the fox hunting and eventing worlds, which I know next to nothing about. Even so, there are a lot of things I can recognize from my own experiences as a horse owner. It's a funny and occasionally sad book — I teared up when his wife had to put down her beloved horse Nebraska, for instance.
Most horse lovers will probably love this book, even if it's not the world they personally know — in fact, that is sometimes what makes it so funny, such as when he finds himself fox hunting in Virginia on a horse determined to kill him (and when he, as he puts it, sympathizes with the fox rather more than the hunters). Although those who don't own horses (but still love them) will probably still enjoy the book, knowing something about the horse world — specifically how
crazy
some horse people can be — is sometimes a prerequisite for understanding the humor in the anecdotes!