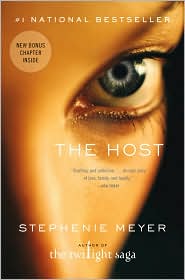 Those of you who have been reading my blog for a while know that I really liked Stephanie Meyer's
Twilight Saga
, which I read about a year and a half ago — and that lately I've been reading a lot of other books in the YA dark fantasy genre.
I've wanted to read
The Host
for a long time, but I didn't get around to it until I recently discovered it in the list of my library's ebooks that could be read on my iPhone. I was really excited when I found it! In general wait lists on ebooks are much shorter than the other books at the library, because there are so many fewer people reading them, but it still took me a little over a month to get this one.
As much as I loved the Twilight Saga, I think I may have actually liked
The Host
more. The reviews I found on Barnes & Noble's website indicated that it really gets its hooks into you after about 100 pages, and I definitely found that to be true. I was so hooked, in fact, that I read the last half of the book last Thursday afternoon — I picked it up for a little lunchtime reading, and couldn't put it down!
I also read in the reviews that the end was surprising, but I actually was pretty sure I knew what was going to happen. Even so, I sobbed my way through the last 30 pages!
This book has been billed as "science fiction for people who don't like science fiction," and although I
do
read some sci-fi and fantasy, I would have to agree. This was one of the best books I've read in a while!