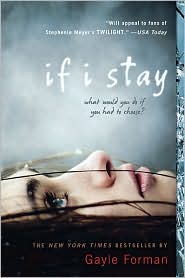 This book stalked me until I read it. Seriously! I kept seeing it around — at the used bookstore near me, online, and finally in the list of OverDrive ebooks my library offers. Have you ever had that kind of thing happen to you?
Anyway, I figured I probably should read the book so it wouldn't keep following me around, and I am so glad I did. It was amazing, and even made me cry a little! I don't often cry at books, even the sad ones, and then usually only the ones where animals are involved. But this one made me cry.
The book gets started right away, and plays out over a very short period of time, with lots of flashbacks to explain things as you go along. It's a wonderful way of telling a story, and makes this a very fast read. I read it nearly in one sitting, which I actually recommend, because it's so short and because it makes so much sense that way.
In the first few pages, Mia is in a car accident with her family, and I mean a
bad
accident. While her physical body goes into a coma from her injuries, her soul is aware of everything that is going on. In astral projection-style (anyone ever read
Stranger with my Face
? I was addicted to that book as a preteen), she watches over her body and her family, walks us through her memories, and ultimately realizes that it is up to her whether she stays... or whether she lets herself die.
This is an
amazing
book, whether or not you normally read YA fiction, and I highly recommend it!