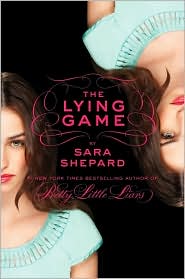 After the seriousness of
The Lost Dogs
, I knew I needed something a little more fun. When I first read the summary of
The Lying Game
on B&N's website a month or so ago, it reminded me a lot of a favorite book from my own childhood,
Stranger with My Face
by Lois Duncan. In that book, a girl who turns out to be a twin and adopted, experiments with astral projection, only to get locked out of her own body when her twin enters it and takes over her life, pretending to be her.
The Lying Game
is a little different, but has a similar concept: twins, separated at birth, one adopted and the other spending her life in foster care. The story is narrated by Sutton, the dead twin — an interesting concept that I love — who wakes up (as a ghost) in the foster home of the twin she didn't even know she had, with the realization that she is dead and no memory of how it happened. The foster girl, Emma, then has to take over her dead twin's life and pretend that she is her in order to try to find her killer.
I didn't realize until the book ended without her finding the killer that this book is the beginning of a
series
, and the next book isn't due out until August. Oh well. I'll definitely read the next one — it's a very compelling story, and I am curious to find out who the killer is, and what will happen to Emma!