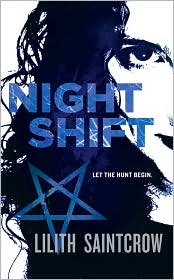 A few days ago, Barnes & Noble listed a Lilith Saintcrow novel,
Night Shift
, for sale for only 99 cents. It took only a quick Google search to discover that this is the same
Lili St. Crow
who wrote
Strange Angels
,
Betrayals
, and
Jealousy
. I'd read that
Strange Angels
was her first YA novel, and that she was normally an adult fiction writer, and I'd been mildly curious about her other books, but this sale convinced me to try one out!
It's a little ways down on my reading list, so it may be a while before i get to it, but I wanted to post the link now. The ebook is 99 cents, but only for the month of January! Like with the free ebooks, I recommend getting it while it's on sale, even if you aren't going to read it quite yet!