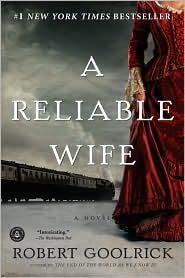 I've had my eye on Robert Goolrick's
A Reliable Wife
for months, ever since I first spotted it as an ebook on Barnes & Noble's website. I think it was in the most popular category, or perhaps the recommended books, and I thought it seemed interesting. So imagine my delight when I discovered my library offered it in ebook form!
One of the nicest things about the library's ebooks is that usually I have a much shorter wait than I would for a physical book. Besides the fact that fewer people read ebooks, my library only lets you check ebooks out for 2 weeks at a time, after which they are immediately available to the next person on the list. No time required to ship the book to another library so that the next person on the waiting list can pick it up — the next person has 5 days to checkout and download the book, and if they don't, it quickly goes to the next person.
Anyway, when I got this book and started reading it, I found it wasn't at all what I was expecting. It was shorter, for one thing, and was written in a more literary style. There are two main characters in the book, an older man who has put out an ad for a mail order bride — "a reliable wife" — and the young woman who has answered the ad. But neither are what they seem: The young woman is planning on killing him and using his fortune to spend the rest of her life with the man she loves, while her husband plans to use her in order to try to reunite his family.
What neither of them plans on is falling in love.
It's done quietly, rather than with the drama that you would find in a romance novel or a blockbuster novel, but I found it compelling still in its own way — just
quietly
compelling. I think anyone who likes literary fiction and different types of things will really like this novel.