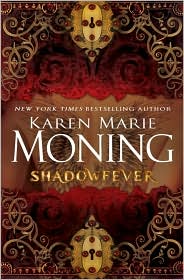 I've gotten a little behind again on blogging about the books I've read! I actually finished
Shadowfever
a week ago — despite kind of a crappy week last week, I read through it pretty quickly, considering it was about twice as long as the other books in the series. I thought I'd be through it in a day, like I was with the others, but that was before I saw how long it was!
Like I said last week, one of the biggest advantages to ebooks that I have discovered is being able to download them just after midnight
Eastern
time on the night they are available.
Shadowfever
came out the 18th, last Tuesday, but I was able to download it a 10:20pm my time Monday night. How's that for an advantage?
I'd been anxiously awaiting this book for a while, so being able to download it that early was a big deal. The previous book in the
Fever series
,
Dreamfever
, ended with the most agonizing cliffhanger I've ever experienced in a book.
Shadowfever
answers your worst fears from the end of
Dreamfever
, but it's also very satisfying. I don't dare say more, for fear of spoiling it for those who haven't read it, but let me just say this: It's a wonderful book, and a very fitting end to the series.
Only I don't think it will really be the end. Maybe the end of Mac's story (and then again, maybe not), but there are still some questions left to answer, some characters whose stories weren't resolved. Oh, I hope there will be another book!