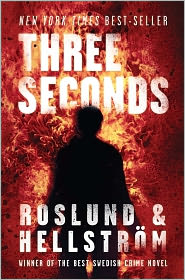 A few months ago, Barnes & Noble announced
Three Seconds
was going to be their next First Look book. The First Look Book Club allows you to read books before they come out, discuss them on the B&N forum, and review them on the site. It's kind of fun, and not a bad deal for a free book.
I'd also done the First Look with
Vixen
, the YA novel about several girls in the 1920s. This time, unfortunately, it didn't go quite as smoothly. I received my book in the mail rather late, and then ended up sick for about two weeks in December. By the time I was better, we were slammed with preparing for the holidays. I still managed to get some reading in, though, and was able to participate in the discussions at the very end.
I don't usually read this kind of novel, as you'll know if you follow my blog, but it was compared to
The Girl with the Dragon Tattoo
. I've seen the movie (as well as the next movie,
The Girl Who Played with Fire
), and I've been on hold at the library for the books for what feels like forever, but I haven't read them yet. Still, my interest in them made me think that maybe I'd like this one.
Well, I did like it, but not as much as I like most of what I read. I think it was probably because it was a little out of the ordinary for me, and not so much because of the novel itself. It was well-written and everything, and grew more suspenseful the further you got, but I didn't like the brevity of scenes, and I thought the main characters could have been more developed. My husband — who reads crime novels from time to time — tells me that those are characteristics of the genre, however, so I think it's mainly that I'm not used to this kind of novel.
If you like crime novels, I would highly recommend
Three Seconds
. It's very well thought out, and the suspense is very well done. However, if (like me) it's not your usual kind of fare, I think it might be a little hard to get into. I don't know if I ever would have read it if it wasn't a First Look selection!