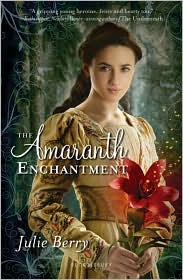 I stopped reading
The Amaranth Enchantment
about 4 chapters in so that I could read my
Valentine's Day selection
, but when I picked it up again, I finished the book in a day. It was a fun fantasy retelling of Cinderella — so well disguised that I didn't notice until about halfway through the book that that's what it was.
Lucinda was the daughter of wealthy and important parents, but when they were killed in a horrible accident when she was 5, leaving her penniless, she was raised by her aunt and uncle — poor relations by marriage.
Ten years later, a woman known as the Amaranth Witch brings a beautiful stone in to her uncle's jewelry box and requests a setting to be made for it. Before the work can be done, however, Lucinda's world falls apart, and she finds herself on the streets, searching for the stolen stone. It turns out that more than just the stone is hanging in the balance: Lucinda also has an opportunity to reclaim her parents' legacy if she can find the magic stone before the evil lord who is also searching for it.
At only about 330 pages (220 on Nook),
The Amaranth Enchantment
is a fairly quick read, but it's fun and sweet. Young teenage girls are going to love this unique retelling of Cinderella, but (speaking from experience) adults who enjoy YA fiction will like it, too!