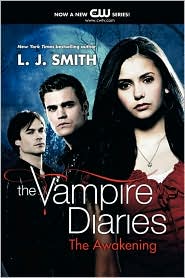 I have some pretty mixed feelings about this one. I've never been interested in reading the Vampire Diaries series, although I had heard of it and knew there was a corresponding TV show. But a couple of weeks ago, I had the opportunity to download the fourth ebook in the series for free, and I figured I should probably read them in order. Luckily I was able to get the ebook for the first one from my library, so I was able to try it out for free.
Teen dark fantasy has been quite popular lately, with many of the books — such as the
Twilight Saga
— being read by adults as well as teens. I didn't feel like
The Awakening
, the first in the original series by L.J. Smith (apparently there is also a "Return Series" and a "Stefan's Diaries" series) transcended its YA label, though. Elena, the main character, is a popular girl and the queen of her small-town school, which makes it feel more like "Sweet Valley High with Teeth" than something adults can really get into.
It's not that it's bad, and actually, I'll probably at least read the rest of the first four books.
The Awakening
ends on a cliffhanger, or rather it ends with the feeling that the overall story is just getting started. Luckily it was a pretty quick read, and I anticipate the others will be the same. I finished this one in a day, just like
The Mockingbirds
.
I won't read the next one quite yet, though. I need a break first — which means I'm moving on to something a little more "adult" for the time being.