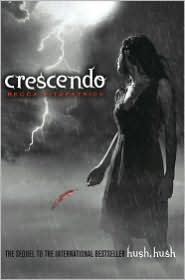 I just have to say... ENOUGH with the cliffhanger endings, authors! Sheesh!
I've never seen so many cliffhanger endings on books as I've been seeing lately, since dark fantasy series have become so popular — and since there have been more series in general.
I'd been waiting to read
Crescendo
for a while — I read
Hush, Hush
just over a year ago, and loved it. When
Crescendo
came out, I immediately got on the wait list at my library, but not before quite a few other people got on it ahead of me. As a result, I just finally got it a couple of weeks ago, and just yesterday got around to reading it.
And I loved it. So much, actually, that I read the entire thing in one day. Luckily I didn't have much else to do yesterday, so I wasn't totally shirking all of my responsibilities — I have a couple of days' lull right now before work picks up again for February, and since we are currently in a deep-freeze (yesterday's high was -1), it wasn't like I was going anywhere! So I was perfectly able to hang out and read all day. I
love
those kinds of days.
As a refresher,
Hush, Hush
is about a girl, Nora, who falls for a fallen angel. Patch does get his wings back at the end of the first book (I know, spoilers! sorry!), and becomes Nora's guardian angel. In
Crescendo
, however, that quickly goes awry. Before long it becomes obvious that someone is after Nora — again — and it's starting to look like that someone is Patch. There's also a new guy in town, someone Nora knew as a child, and it's perfectly clear that he's into some bad stuff, too.
The ending is quite the cliffhanger, though. Almost as soon as Nora is safe, she is presented with a brand new predicament, even worse than before — and there the book ends. And I'm going to have to wait until
October
to find out what happens!
Damn
it!