Originally posted in June of 2006, this is another of the reviews from Reading 4 Writers, my old blog dedicating to reviewing writing-related books. Although I didn't have as much to say about this book compared to Bob Bly's other books on copywriting, I found it to be a very helpful book for writers and would-be writers.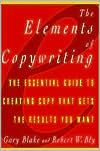 It's almost laughable: when I recently checked out a bunch of library books on copywriting,
three
of the books were by Robert Bly! Before we left for our vacation, I grabbed a few books to take with me, and one of them happened to be
The Elements of Copywriting
, the third book by Robert Bly that I've read on the subject. (This particular book is also co-authored by Gary Blake.)
Having read three books by Bly, almost right in a row, I've noticed many similarities between them. Certainly an aspiring copywriter shouldn't have to read all three. My favorite was the last book I reviewed,
The Copywriter's Handbook
, but
The Online Copywriter's Handbook
is useful too - just a little more outdated.
The Elements of Copywriting
is also a tad bit outdated - it was published in 1997, almost a decade ago. The chapter about the internet is the most noticeably outdated.
The biggest benefit of
The Elements of Copywriting
is that it is more condensed than the other books - so if you just need to know the basics, you might prefer a slightly shorter book. However, I still prefer
The Copywriter's Handbook
, which contains some very helpful information for Internet copywriters.