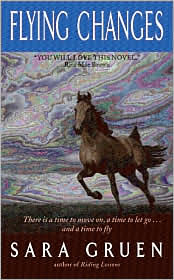 After reading
Riding Lessons
in about 24 hours, I knew it wouldn't take me much less time to read
Flying Changes
. And in fact, I couldn't put it down last night until I'd finished it around 3:30 in the morning. I'm a bit tired today, but oh, it was worth it!
In this sequel, Annemarie is struggling with whether to let her talented daughter ride competitively; her memories of her near-fatal riding accident when she was competing as a teen cause her a lot of hesitation. However, it soon becomes obvious that Eva is headed down the wrong path unless she has something like competitive eventing and training to fill her time.
At the same time, Annemarie is dealing with a lot of uncertainty about the future in her relationship with her childhood sweetheart. And with all of this as background noise, the ultimate tragedy takes place.
Besides the fact that it's about horses and it's the sequel to
Riding Lessons
, there was another reason I was so keen on reading
Flying Changes
. I discovered last November that
Flying Changes
was a
NaNoWriMo novel
. Since every year I do NaNoWriMo — National Novel Writing Month, a challenge to write a 50,000 novel in one month — I was delighted when I found out that a popular published author does it too! In the acknowledgments at the back of the book, Gruen says, "To my writing group, who propped me up and generally kept me going with consistent love and support." I can't help but wonder if she is talking about her local NaNoWriMo group — typically, local groups form and meet several times during the week to write or just to talk about their novels.
Sara Gruen's books are filled with lines that would make great quotes, but before I finish this review, there is one in particular I'd like to share, because it so closely mirrors how I feel about my horse. Granted, I'm not the world-class rider Annemarie is, but just the same, I understand this feeling of intimacy with a horse:
Hurrah transports me, and I give myself over to him. When I ride him I'm a different person — confident, competent, operating at a level somewhere below latent thought and in absolute concert with the magnificent animal beneath me. When I slide from his back, I am recharged and whole. How could I possibly let anyone witness that? It would be like letting someone watch me make love.
THAT is what it is like to love a horse.