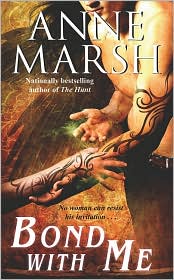 I was starting to read
The Amaranth Enchantment
, but when I realized this post was likely going to fall on Valentine's Day, I decided I should read something a little more... romantic.
I didn't have any romance novels on my checkout list at the library. Because I am constantly downloading free ebooks, though, I have nearly 300 ebooks in my Nook library, so I decided to start there. Surely there was a romance novel on that list that I'd been meaning to read.
As a matter of fact, there were several. Okay, more than several. There are a lot of romance novels offered as free ebooks.
At first, I decided to try
Bond with Me
, last week's
Free Fridays
offering. They even mentioned Valentine's Day in the post, so I was thinking it might be halfway decent. Ha. I'm not sure you could even get away with calling it erotica... Porn, maybe? After the word "pussy" was used three or four times in the first 30 pages, I gave up. I find that word insulting, not sexy. Not really what I was looking for in a Valentine's Day romance, so with a tap of the screen, I rated it (one star), removed the file from my iPhone, and archived the ebook. Maybe someday I'll try it again... though don't hold your breath.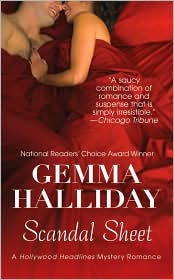 Luckily I had plenty else to choose from, so I tried again. This time I opted for
Scandal Sheet
, a free offering over the summer (still cheap, though). I believe the author is self-published, but I've heard good things about her, and actually just recently downloaded another of her books,
Spying in High Heels
. Looks fun!
Scandal Sheet
looked fun, too — and in that respect, it didn't disappoint. The main character, Tina, is a journalist for a Hollywood gossip magazine, but her column draws some unwanted attention, and she starts getting death threats if she doesn't stop writing about one of the stars... but who? Tina decides to try to solve the mystery, despite her boss's objections.
Unfortunately, I went from one extreme to the other — I was looking for a trashy romance novel, and while
Bond with Me
was a little
too
trashy for my tastes, this one was anything but. Although there was a love interest — the bodyguard assigned to look after Tina — they share all of about three kisses from the beginning of the novel to the end. The book focuses more on Tina's investigative efforts. Still, the story is fun, if a little tongue-in-cheek, judging by the glaringly impossible rescue scene at the end. I may have been disappointed by the lack of trashy love scenes, but I have to say, I'm definitely looking forward to reading the author's
High Heels
series.