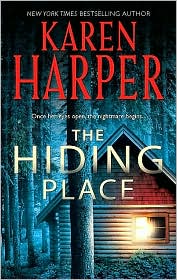 After my scathing review of
The Struggle
, I must say, I am glad to be able to give a
positive
review. After reading about the juvenile troubles of the Vampire Diaries, I desperately needed to read something a little more grown up, so I chose Karen Harper's
The Hiding Place
. This book, I must add, was the first successful ebook acquisition recommendation I made to my library. They bought it less than a week after I recommended it.
The Hiding Place
is a novel about a private investigator named Tara who, for some reason I cannot fathom, was married to an insanely traditional man from an insanely powerful family. You know, the kind of rich, powerful men who like to keep their women barefoot and pregnant. After having been married for a couple of years, Tara and her husband were having problems, and then Tara wakes up from an 11-month-long coma to find that her husband had divorced her in the interim.
It turns out that that's not the extent of her husband's betrayals, however. The novel begins a couple of years later. Tara is the temporary guardian of Claire, the daughter of her murdered best friend, whom she was trying to protect the night she was hit in the head with the butt of a rifle, causing her coma. Her friend's brother, Claire's uncle, has just come home from Afghanistan, where he was training tracking dogs for the military, and he quickly becomes involved in helping Tara to solve the mystery of who has been after her — and what
really
happened to her while she was in that coma.
I figured out the truth of what happened to her in the first few chapters of the book, so the ending may not be a big surprise to you, but it's still a really good suspense novel, well researched and very authentic. It also takes place in Evergreen and Conifer, in Colorado, just to the west of where I live, which made for a nice local flavor. Definitely an enjoyable book if you like suspense!