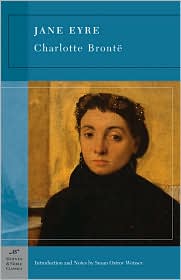 I'm still working my way through
Pride and Prejudice: The Wild and Wanton Version
(a review coming soon, I promise), but in the meantime, check out this blog post from NPR: A new
movie version of Jane Eyre
is coming out next month! Some of you may remember that I'm a big fan of
the Brontës
, so it will probably come as no big surprise that I plan on seeing it in the theaters, if it goes there!
It'll be interesting to see how it is. I think I've watched most of the movie adaptations of
Jane Eyre
out there — a few years ago, hubby and I watched several of them before
we went to Haworth
. A lot of adaptations cut out some part of the plot, usually Jane's time with her cousins after she runs away from Rochester.
Anyway, I'm looking forward to seeing this new one!
Edit 8/3/2011:
While I was updating my affiliate links, I noticed that you can now preorder the
new Jane Eyre on DVD
!