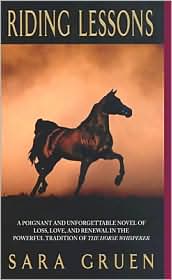 Although both of the next two books I'll be blogging about are fiction, I've categorized them under "horses" because there is no doubt that's what they are: novels, sure, but
horse
novels.
Riding Lessons
is clearly written by someone who knows horses and knows the horse world. It's a sensory feast for anyone who loves the barn as much as Sara Gruen clearly does: She describes the smell of the barn, the feel of the horse, even little details that bring it all to life, such as the cross ties clinking against the wall as you release each one, or the water that runs down your arm and into your shirt when you give a horse a bath. That she includes these details brings a delightful authenticity to her books.
A fellow boarder at my barn recommended
Riding Lessons
and
Flying Changes
to me ages ago, but it wasn't until they showed up in my
library's selection of ebooks
that I finally got around to reading them. I raced through
Riding Lessons
in a little over a day, and I'm sure I'll be done with
Flying Changes
almost as fast. I just can't seem to get enough of either of them.
Riding Lessons
is about Annemarie Zimmer, a former Olympic-bound eventing champion who hasn't ridden since a freak accident destroyed her body and her horse. Although surgeries and months of rehabilitation put her back together physically, she never got over the loss of her horse. She even married in order to get away from her parents' horse farm, because she couldn't stand the painful reminders.
Now she is getting a divorce, her relationship with her teenage daughter is on the rocks, she's lost her job, and her father is dying. With her world falling apart, Annemarie returns home to the horse farm to take over managing it for her parents. She discovers that her high school sweetheart is now a vet and runs a horse rescue. When she sees a rescue in his pen that looks exactly like her lost horse, she adopts him and begins the process of healing him — and herself.
In some respects, the plot line of the book resembles a train wreck, not because it's bad, but because all of the conflicts in the novel descend on Annemarie at once: her divorce hearing, her relationship with her daughter, her problems managing the horse farm, and the truth about who her rescue horse really is.
Certainly I think more people than just horse lovers will enjoy this book, but for anyone who owns, has owned, or simply loves horses, it's a real treat!