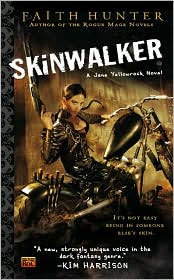 Skinwalker
was not one of those books that I just blazed through, but interestingly enough I think I might have enjoyed it more for that reason. Yet another vampire type dark fantasy novel — I've really been reading a lot of these, haven't I? —
Skinwalker
is actually quite different than the usual.
For one thing, there isn't any love story, especially not with a vampire. There are a few mentions of sex, but from a fairly carnal point of view, and nothing actually happens. And definitely no falling in love
with vampires
.
Jane Yellowrock, quite frankly, kicks ass — and not in a Bella-vampire-prodigy kind of way. More like a biker chick/Lara Croft kind of way. She is six feet tall, Cherokee, has hair down to her butt, and is a skinwalker, a shape shifter from Cherokee legend. And she is
tough
. She doesn't take crap from anyone, likes to play with her prey (i.e., everyone), and has a wicked sense of humor.
There are a couple of books in the Jane Yellowrock series, which take place in a world where vampires and witches are "out," like in the Sookie Stackhouse books. As far as she knows, though, Jane is the only one of her kind. She is hired by the vampires of New Orleans (who don't know what she is) to track down and kill a rogue vampire, but along the way she answers some of the mysteries of her past.
It's a good story with a unique heroine who really grows on you. I'm looking forward to reading the rest of the books!