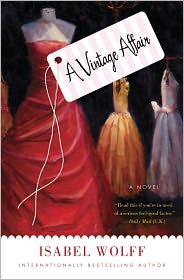 Back when I originally downloaded the
B&N eReader
(the original one, not the Nook app), I got a sample of
A Vintage Affair
. We'd been seeing it in the store, and I thought it looked like an interesting novel, so when I found out my library had the ebook, I jumped on the chance to read it for free.
The main character, Phoebe, runs a vintage clothes boutique, which wins my heart right there — between the
1920s wedding dress
I got married in and my love of
1950s dolls
, I've come to love vintage clothes!
The story was also very unique. It's partly about the things Phoebe is struggling to deal with in her life: the death of her best friend, breaking up with her fiancé, and her dad's scandalous affair. Phoebe also meets and develops relationships with two different men: Miles the millionaire, and Dan the journalist. It's also a great deal about the regrets of an dying woman, a stranger, that Phoebe comes to know and love.
Vintage clothes are the theme running throughout the story. They are the link between Phoebe and both of the men she forms relationships with. Time and again, they are also the happiness, however small, that "saves" the women she meets: the honest, hard-working girl who can't afford the perfect dress, the woman who is coming to terms with her infertility, the young woman who breaks out of an emotionally abusive relationship with a white-collar criminal. And vintage clothes are ultimately the piece of the puzzle that Phoebe needs to bring happiness and closure to her elderly friend's life.
It's an intricate plot, made up of numerous side-stories, all woven together — like the threads in a piece of fabric, actually, in a way. The threads all come together to form a pattern that is greater as a whole: a story of women finding their way in life.
A Vintage Affair
is a well-told story with lots of depth and complexity, and one that I think most women will love!