This is a slightly older book, so I can't find a listing for the paperback new from B&N. The link below, therefore, goes to the ebook edition. I originally blogged about this book in June of 2007 on my old writing-book review blog. It was such a great resource for bloggers that I wanted to post the review here, even though I can't find a listing on BN.com. Hopefully any bloggers who are interested in reading it can find a used copy elsewhere!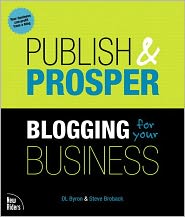 I spotted
Publish & Prosper: Blogging for Business
at the Apple store. Although I am a writer first and a blogger second, I was immediately interested; after all, blogging
does
involve writing, and
does
help my writing business.
I was amazed by how helpful this book really is. It's written for any level of blogger, whether you haven't even begun yet or you've been in the blogosphere for years. I've been blogging for about a year and a half now, but there are still things I learned from Byron and Broback's book.
Publish & Prosper
starts with a pretty basic explanation of blogs: the short version of how they evolved, how they work, etc. The book also goes into more detail on various feature you can utilize, how to make your blog work for your business, etc. Some of this stuff I already knew, other things I did without understanding why it seemed to work so well, and still other things I didn't know at all (but plan to try out on my own blogs).
Whether or not you are a writer, if you have a business to promote online
Publish & Prosper
is the perfect resource on blogging!