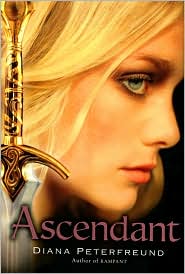 After enjoying
Rampant
, the first book in Diana Peterfreund's Killer Unicorns series, I was particularly excited about
Ascendant
. There are lots of dark fantasy YA books out there right now, but this strikes me as one of the most unique.
Rampant
focused a lot on Astrid and her sisters-in-arms learning how to fight and kill unicorns, an art form that hasn't been taught for well over a century, so there is no one left alive who knows how. The result is that the girls have to figure it out themselves by trial and error.
Ascendant
takes a slightly different approach. In the second book, Astrid starts learning other things about the lost unicorn hunter culture — things that teach her to appreciate the creatures, and may even help her save them in the end.
I wonder if there will be a third book? I hope so!