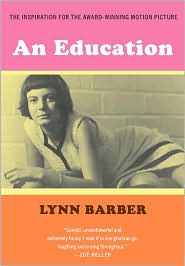 Several months ago, we watched the movie
An Education
on Netflix. I happened to see that it was based on a memoir, and decided to check out the book.
The movie is based on just one chapter, also called "An Education." In about 1960, when the author was 16, she started dating an older man, only to find out after a couple of years that he had been lying to her about some pretty major stuff. Her parents had been pushing the importance of education until he proposed, and then suddenly started pushing for her to get married instead. When she said, "What about Oxford?" they told her she didn't need to go to Oxford if she got married. Of course, shortly afterward the secret came out, and she ended up going to Oxford anyway.
I'm not sure what exactly she learned — she says in various places that she learned to lie while she was with Simon, and she apparently also learned not to take her
real
education seriously, since she essentially studied men at Oxford instead of schoolwork.
The rest of the book goes on to detail her time at Oxford, her relationship with her husband, her career as a journalist, and her husband's death. It's a fairly fast read — only about 175 pages — and parts are compelling and quite funny, as she has a pretty ironic sense of humor. There were other parts, though, that I skimmed because I didn't find them as compelling.
Overall, it's a good book, and appeals to me as a writer because of the stories of her career. It's also a good read if you liked the movie, and are interested in the real story!