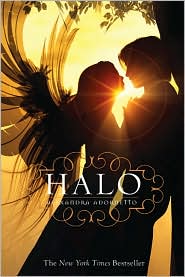 I finished
Halo
last night, about about 3 days of struggling through it. It wasn't terrible, but it wasn't as compelling to me as YA dark fantasy romances usually are — I usually whiz through them in a day or two.
A couple interesting things about the book. One, the author is just 18, and Australian. This isn't her first book, either — she wrote her first one when she was 14, but it was only published in Australia. For the most part, there wasn't anything about the book that would tip you off about her age — I was a third of the way through before I read the back flap, and was totally surprised by the discovery — but she has an extremely annoying (to me) habit of leaving out commas. Maybe it's an Australian thing, but no matter what it is, it drove me crazy — and she did it all through the book.
Although the story was well-thought out and (with the exception of the annoying lack of commas) well-written, however, I had a hard time getting into it. The first half of the book was almost entirely about their relationship, and could have been written almost entirely the same
without
her being an angel. It wasn't until a little over halfway through that the "dark forces" at work in the town actually became a conflict.
If you are interested in YA angel romances, I think
Hush, Hush
and
Crescendo
, and
Fallen
and
Torment
, were way better and more interesting books. Not that this is a
bad
book, I just thought it wasn't as compelling as some of the others out there.