This book was one of the most interesting and useful books I ever reviewed on Reading 4 Writers, my old writing-book review blog. Packed with information, this is one book I think every writer should have in their personal library. I am thrilled to see that the book is now available in ebook format! Perfect for writers who need information right away.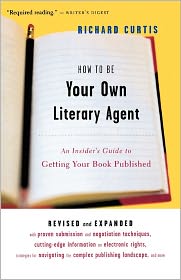 I found it: the book that gets the prize "Most Useful for Freelance Writers." And it's not a book that tells you how to write - it's a book that tells you how not to get screwed when you publish what you've written.
Although Richard Curtis wrote
How to Be Your Own Literary Agent
for book authors, I think it helps regular freelancers just as much. If you have to negotiate a book deal, read a contract, or even
sign
a contract, you ought to read this book first.
How to Be Your Own Literary Agent
basically translates the contracts between writers and publishers into language that you can understand. It breaks down every step of the book deal, explaining how the wordy "legalese" in your contract can result in significant gains - or losses - in your career.
As a freelance writer who deals with contracts regularly, I thought I knew a lot about them. I quickly found that I don't know as much as I will need to when I get to the point in my career where I'm publishing books. The basic point is that publishers area always out to take advantage of writers so that they can maximize their profits, and unless a writer knows better (or has an agent who knows better), he or she could get screwed out of tens of thousands of dollars.
Although Curtis's book was written primarily for writers who want to sell their book
without
the help of an agent (i.e. do-it-yourselfers like Yours Truly), I think it's also a must-read even for writers who plan to use (or already use) an agent. What Curtis says is true: there are absolutely no standards in place for those who wish to call themselves agents. In other words, no matter how careful you are, your agent may simply not have the knowledge or ambition to protect your best interests. Knowing your own way around a contract will protect you from getting screwed by your agent
and
the publisher.
Here's a sampling of the subjects that
How to Be Your Own Literary Agent
covers:
* How to get your submission noticed by the editor
even
if you don't have an agent
* Fair royalty rates and how to avoid common pitfalls that cost you some of your rightful income
* Reserving rights for yourself such as electronic (ebook) rights, movie and TV rights, etc.
* Ensuring that your publisher sends detailed, accurate royalty statements
* Protecting yourself from getting stuck with a crappy publisher
* Making sure the rights to the book revert back to you in a timely manner after the book goes out of print (or doesn't get published during a reasonable amount of time)
* How long the publication process takes and what to expect
* Ways to promote your own book (and why in most cases you can't let the publisher handle it)
* The ups and downs of collaborations
* All about book packagers (you know, those companies who give an author an outline of a book and a flat fee to write it)
* Handling an auction for the right to publish a book (and why you're better off letting an agent handle this)
* Taxes
* The influence of book superstores (i.e. Barnes & Noble, Borders)
* Writing titles (and dealing with it when your publisher rewrites them)
* Advice on nontraditional publishing methods such as small publishing houses, self publishing, ebooks, etc.
As you can see, this book offers advice on more than simply how to negotiate a contract with your publisher - it tells you how the world of publishing works, so that you won't be taken advantage of for
not
knowing. Regardless of what kind of writing you do or whether you plan to have an agent, this book is a staple to have on your shelf!