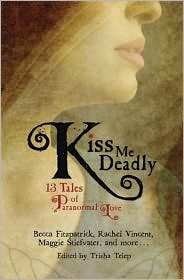 I'd run across
Kiss Me Deadly
quite a few times, both on Barnes & Noble's website and in my library's ebook selection, but I don't usually like anthologies or collections of short stories. Still, I decided to check it out after reading
Becca Fitzpatrick's Crescendo
, and noticing that she also had a short story in
Kiss Me Deadly
.
Ironically, I wasn't as impressed with the short story, "Dungeons of Langeais," as I was with Fitzpatrick's novels, but several other authors had short stories in here that I really enjoyed. My favorites were "Behind the Red Door" by Caitlin Kittredge, and "Familiar" by Michelle Rowen. "Lost" and "The Spirit Jar" were also pretty good, and "Many Happy Returns" offered an interesting take on zombies. Carrie Ryan, who wrote
The Forest of Hands and Teeth
and
The Dead-Tossed Waves
, had a story that explained the history of the village and one of the sisters a little bit better, and "Errant" by Diana Peterfreund has me really interested in her unicorn hunter books.
I didn't care at all for the Peter Pan story ("The Spy Who Never Grew Up"), and there was another story, "Vermillion," that I didn't even finish. But for the most part the stories were pretty good. I'll be checking out a few more books thanks to a couple of authors I discovered in this collection!