Originally posted in February of 2007, this quick little review is another from Reading 4 Writers, my old blog for reviewing writing-related books.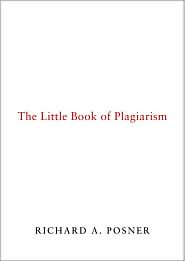 One could argue whether Richard A. Posner wrote
The Little Book of Plagiarism
for
writers, but the book definitely is
of interest
to writers. This brief (109 pages) read is nevertheless packed with information.
Starting with the controversial story of
Kaavya Viswanathan
, Posner leads his readers through a very organized tour: first discussing high-profile plagiarism cases, then discussing the broader definitions of plagiarism and copyright infringement, and finally narrowing the definitions down in order to try to determine exactly what it is about plagiarism that gets everyone so upset. The underlying theme here is that true plagiarism attempts to pass itself off as originality, when in fact it's anything but.
This book may not tell you how to write, or why you should write, but it definitely shows you what you
shouldn't
do: copy someone else's work.