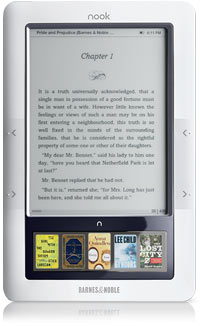 Big news! I've decided that as much as I like the ebook experience, it's time to upgrade to the real deal: an ebook reader. My iPhone works well, but with all of
Apple's threats
and the limited battery life that I get reading on my phone, I've decided that having a dedicated reader is my goal.
And of course I chose the Nook! Among the things I like about it is the fact that it allows for much more flexibility with format, so that I can sideload Adobe Digital Editions DRM books such as
library ebooks
.
Barnes & Noble sells refurbished Nooks for a reduced price — click on the image for more information. I'll probably be getting the basic model, because it's supposedly a little lighter and because I don't anticipate needing to download books when I don't have a wifi connection. All I have to do is find a Starbucks, anyways, right?
I should be getting my Nook next month for my birthday. I'm so excited!