This was one of my favorite books that I reviewed on Reading 4 Writers, my old writing-book review blog. The review was originally posted in January of 2007.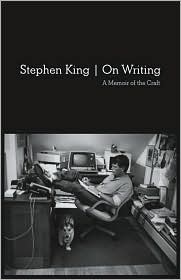 I have a confession to make: I have only ever read one Stephen King novel, and I hated every minute of it, even though I forced myself to finish. However, I've heard that he writes very well
about
writing, so I decided to read his book
On Writing
.
I loved the book, but it also demonstrated to me why I don't like his novels. I'll start with the reasons why I loved it.
The first part of the book is extremely engaging. He describes his memories, from the earliest to as recent as when he published
Carrie
- but in a choppy style, as that's how he said he remembers his life. The memories are delightful - he has a wonderful wry sense of humor. It is also fascinating to see how his memories dance around, and finally converge on, his destiny as a writer.
King's sections about writing are also very well written. He has a gift for organization, that much is certain - each discussion is separate, yet flows easily into the next. He doesn't bore the reader with unnecessary how-to advice or proselytizing, but gets his point across succinctly and easily.
However, there were a few things I don't agree with. He talks about how writing for a paper was such a revelation for him, and how he learned to leave out unnecessary words. I think that is a valuable skill, but I also think that a lot fewer words in fiction are unnecessary than in newspaper writing or copywriting. Fiction requires more words to create vivid description. I also don't think that adverbs (you know, the -lys) should be banned quite as religiously (ha! see?) as he recommends.
As I was discussing my disagreements with my fiance, I realized what it is about Stephen King's (fiction) writing style that rankles me so: it's his lack of description, his inability to make me feel a part of the story. It's the cold nakedness of his prose. My favorite writers are ones like Anne Rice, whose description could be aptly called "lush" or "heady." That's what I'm looking for in a novel, and I'm afraid Mr. King just doesn't quite deliver.
When writing about writing, though, he does beautifully. Ironically, he talks about how difficult writing the book was for him, how painful he found it to write nonfiction. 'Tis a pity, because I think he did a beautiful job of it.