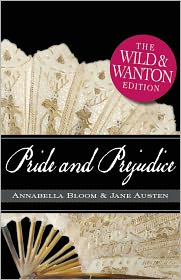 Anything that alters the original version of something is likely to be met with mixed opinions.
Pride and Prejudice: The Wild and Wanton Edition
is meant to be fun, though, so I decided to cut it some slack. It appears to be mostly the original text of the novel, with few omissions, and some sex scenes added by Michelle Pillow (a.k.a. Annabella Bloom). Jane Austen would be shocked, I'm sure, but it's meant in the spirit of good fun, judging by the slogan on the back of the book:
Elizabeth Bennett and Mr. Darcy FINALLY DO IT!
The ebook, which was given away free on
Valentine's Day
, clearly delineates the original text by putting all additions in bold. Judging by the "look inside" feature on the paperback listing, it appears that edition is the same way. Do note, however, that I encountered some problems with the bolding if I used certain fonts in the Nook app. I don't know if it's the same way on the Nook itself or using other apps or readers, but I found that Ascender Sans showed the bolding, while Georgia did not.
Anyway, I appreciated that it was made clear what was the original text and what was added, but I wasn't always impressed with the additions. Some of the sexy additions seemed somewhat lacking in taste, such as when Mr. Darcy masturbates to thoughts of Elizabeth. At other times, it seemed to improve the story, as with Lydia's scandal (she is imagined as being promiscuous long before her elopement).
Other additions serve to expand the dialogue where Austen merely summarized the gist of a conversation, and to explain some of her wit and sarcasm. Sometimes the former was appreciated and well done, but the latter seemed to me completely unnecessary, and almost detrimental, as Austen's dialogue and wit is all very tight in its original form.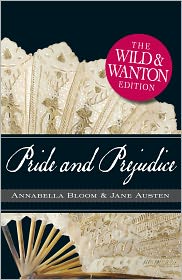 On the whole, while I wasn't terribly impressed, I also was not as offended as some of the reviewers on Barnes & Noble's site seem to be. The additions are all made in the spirit of fun, and they also try to maintain Austen's style and form as much as possible. It's not great, but it's not terrible, either.
At the time of this writing, it doesn't seem like the two available editions — paperback and ebook — are linked, so here is the link to the ebook as well. The first link given, in the upper left, is the paperback
and also the cheapest available edition
.
Edit 8/3/2011: While updating my affiliate links, I noticed that the paperback is no longer the cheapest edition, but I kept it as the first link in my review for simplicity's sake.