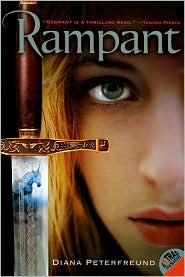 When I read
Kiss Me Deadly
last month, there was a story in it about a unicorn hunter. I had seen Diana Peterfreund's Killer Unicorns books before, but it was the short story that caught my interest and made me decide to read the series.
I've really been enjoying the YA dark fantasy books that have been so popular lately, and I'm always excited when I find something that's a little different than the rest.
Rampant
definitely is different, since I haven't seen anything else about killer unicorns! In the story, Astrid finds out that what her mom has been telling her all her life — that she is descended from a noble family of unicorn hunters — is actually not crazy after all, but real.
So Astrid goes to Rome to learn how to hunt unicorns. Unfortunately they haven't been seen since the 19th century, and everyone thought they were extinct. (Well, everyone who believes the old stories.) The result is that there is no one alive who remembers
how
to hunt unicorns, so Astrid and half a dozen other girls basically have to figure it all out on their own. Meanwhile, there's been a reemergence of unicorns, and things are getting pretty dangerous for Astrid and her fellow hunters!
I wasn't sure about this book at first, but it picked up quickly, and before long I was really hooked. I'm looking forward to reading the second book,
Ascendant
, because there seem to be a couple of loose ends to tie up still!