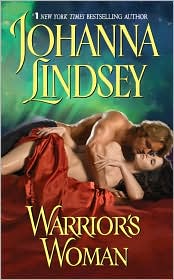 Edit: I did eventually read this one, and ended up liking it after all. You can read that review here.
I tried to read this one. I really did. But I just couldn't get into it — it was too far-fetched for me.
I checked it out from the library because I used to be a big Johanna Lindsey fan. I loved her historical romances back when I was in high school — one of my favorites ever was
Angel
.
Unfortunately, this one wasn't historical, but futuristic. Maybe I couldn't get into it because it's not my thing, but since I do read some fantasy and sci-fi, I'm not sure that's the case. I felt like I was getting blasted with tons of unfamiliar names and terms during the 20 or so pages I read, without much explanation (or much of anything interesting happening, to lure me into reading more until it starts to make sense). In my opinion, good futuristic fiction has to draw a parallel right away — something in the story that you recognize from your own time — otherwise it's too dissimilar to interest the reader. The same goes for all sci-fi and fantasy, actually. You can't make it so different from our own world that you confuse your readers.
So, obviously, I didn't finish this book — not even close. I've tried several times to pick it back up, but the deluge of unfamiliar names dissuades me every time. And it just kills me, because I really did love her historical romances when I was younger. Maybe I should read another of those (or reread one of my favorites) just to make sure it's not my taste in authors that has changed, but I don't think that's the case.