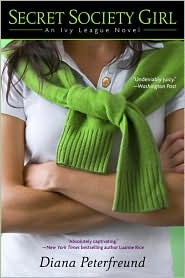 Not very long ago, I read two books in Diana Peterfreund's Killer Unicorn Series:
Rampant
and
Ascendant
. I liked both books enough that I decided to check out some of the other YA novels by the author. I'm on the wait list at my library for
Morning Glory
, and I also decided to check out her Secret Society Girl Series.
Secret Society Girl
was nothing like what I was expecting. It was so different from
Rampant
and
Ascendant
that I could have sworn a different author wrote it. Whereas the Killer Unicorn Series was pretty chaste (you know, unicorns and virgins),
Secret Society Girl
talks about one night stands, friends with benefits, and "hit lists." It's all hilariously done, too.
I was also surprised that there was such a mature theme to the novel. Amy is tapped for the oldest secret society at her high-powered college, a society that has traditionally only ever included men. This is the first year they have ever tapped women, and the backlash is immediate: The alumni on the board try to kick the new members — and those who tapped them — out of the society, and start pulling strings to ruin their budding careers. Amy and the rest of the new members have to decide whether they are going to fight back.
I was thinking it was going to be more of a "fluff" YA series, but I was pleasantly surprised.
Secret Society Girl
was in turns laugh-out-loud funny and scream-out-loud infuriating, but there was nothing "fluffy" about it. It's an excellent novel for teenage girls who for the most part, I'm guessing, don't know much about feminism or the women's movement — but it was also a very satisfying novel for me, a 30-something feminist (just turned 31 today!).
I've already placed a hold on the next book in the series — I can't wait to see where Amy goes from here!
Edit 4/26/2011:
Ms. Peterfreund visited to point out that the book wasn't actually billed as YA, so I changed the label on the post. I'm listing it as chick lit, even though my library lists it as romance and fiction, because it's more fun than most fiction, and I'm not sure the ending qualifies it as romance, either — it's not a "happily ever after" sort of ending, which I think is a requisite of a romance novel.
Edit 12/29/2012:
You can see my reviews of the rest of the books in the series here:
Under the Rose
The Rites of Spring (Break)
Tap and Gown