What better way to celebrate Earth Day than with ebooks? Digital books are perfect because every time you buy an ebook, you are saving trees.
Here are a few environmentally-conscious ebooks to consider.
This is a short little freebie from Smashwords. The image link takes you to the Barnes & Noble page, but you can also get it directly from
Smashwords.com
in any format. I downloaded the ebook and started flipping through it, and it seems like it has quite a few useful tips for reducing your carbon footprint — and your bills. I tend to be a little skeptical of self-published books, because so many of them seem to be poorly written and edited, but this one looks pretty good so far. In any case, the price is right, so it's worth checking out!
I've gotten one of these ebooks before,
Diabetes for Dummies Mini Edition
. I wasn't too impressed with that one, but I think that had to do with the author and the content rather than the "mini edition" style of book, which appears to be the first handful or so of chapters in the full-length book. The ebook is just a little shorter than the Smashwords freebie, but it's a little bit better written and organized, as you might expect. The content seems to be similar, although I'll compare them in more detail once I have an opportunity to read both all the way through. At just 99 cents, this ebook is a pretty good deal.
If you want something a little longer and more detailed than the Smashwords title, check out
365 Ways to Live Green
by Diane Gow McDilda. I haven't purchased this one, but it sounds like an all-in-one manual for green living. According to the description, it has recipes for biodegradable cleaning products, tips on what ingredients to avoid in foods, and suggestions for what plants will benefit your yard the most. The ebook only costs $6.36, too, so it'll save "green" in more ways than one.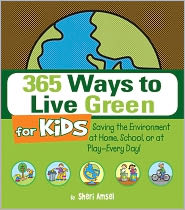 Good habits are best learned when you start them early in life, so teaching your kids now to take care of the environment can stick with them for the rest of their lives. As you can imagine,
365 Ways to Live Green for Kids
is the kids' version of the above book. Judging by the description, this book focuses more on the "why" — which is perfect for kids, actually, if you think about how often that word passes their lips! The idea is that you can use this ebook, which also costs $6.36, to get your kids excited about taking care of the environment.
I was trying to find an ebook on making your home office green, since that would be extremely interesting to me — as a freelance writer, I work from home — but none seem to exist. Perhaps I ought to write one!