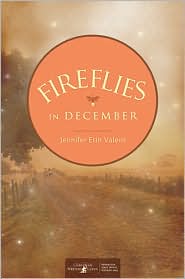 I found this book thanks to
eBookFlip.com
, an ebook lending service that I will review in another post tomorrow. Basically the service makes use of the Lend Me feature on Barnes & Noble ebooks, which allows you to lend certain ebooks one time only to someone else with a Barnes & Noble account. eBookFlip.com simply gets you in touch with others who have lendable ebooks. Although this is the only ebook I've borrowed through the service so far, my experience was a very good one.
Fireflies in December
is very much like
To Kill a Mockingbird
or
The Secret Life of Bees
. Like those books, it's a coming of age story that deals heavily with racism in the South. This book is set in the 1930s, on a small farm in the South.
The trouble starts when Jessilyn's white family takes in an orphaned black girl, the daughter of their longtime help who died in a tragic accident. The people in their small town stop being friendly to them, and eventually they even start getting threats from the Klan. One evening when her parents are gone, Jessilyn is forced to defend herself and Gemma from the Klan with her father's rifle, but all it does is delay the inevitable confrontation.
It's not a very long book — a little over 200 pages on the Nook, which means probably close to 300 in a physical version — but it is absolutely riveting and utterly memorable. Several days later, I still keep thinking about it. I cannot recommend this one highly enough!