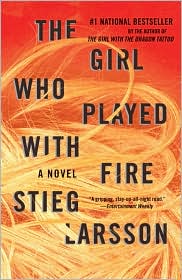 Just yesterday, I was talking to a fellow boarder at the barn where I keep my horse, and she said she was currently reading Stieg Larsson's trilogy. She was on the third while I was only on the second, but since I'd seen the movie and was far enough into the book to know the movie followed it pretty closely, we were able to have a pretty decent discussion about the books.
One observation that she made about the books that I have to agree with is that they are extremely dark. In fact, she was thinking about taking a break to reading something else before finishing
The Girl Who Kicked the Hornet's Nest
. I definitely felt like
The Girl Who Played with Fire
was darker than the first one,
The Girl with the Dragon Tattoo
, and it sounds like the third one gets even darker.
Although Lisbeth Salander is largely the focus of these books, it's not until the second one that you start learning a little more about her (even though the movies actually incorporate some of the second book's revelations into the first installment). You start understanding a little more why she is the way she is — but also how permanent and far-reaching the effects of her past have been. There is no "fixing" Lisbeth.
Unlike the first book, in which Lisbeth played a supporting role in helping Mikael Blomkvist solve a mystery, in
The Girl Who Played with Fire
she is the
focus
of the mystery. Suddenly accused of committing three murders, Lisbeth has to find out why. In addition to the police investigation and her own, Blomkvist and another friend are each running their own separate investigations, each trying to help her in their own way. Unfortunately, the police and her friends aren't the only ones looking for Lisbeth, and the mystery has to be solved before the wrong people find her.
I'm really enjoying these books. Lisbeth is a fascinating character, one that defies the standard definitions of "good" and "bad," and who you can't help but root for. I love the detail in the novels, and the suspense is well-maintained throughout. Although the first novel took about 100 pages to really suck you in, I thought this one picked up a little more quickly. I'm looking forward to reading the third and final novel — hopefully I'll get it from the library soon!