Here is yet another writing-related book I reviewed on both Livre du Jour and Reading 4 Writers, my now-defunct writing books blog. I decided to salvage the original post from that blog and post it here. The original post from this blog can be found here.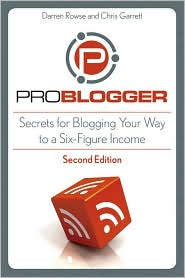 It had been way too long since I updated this blog, so I decided it was about time I read another writing-related book. (Believe it or not, I have a whole shelf full of unread how-to books on writing and related topics.)
This book is
ProBlogger: Secrets for Blogging Your Way to a Six-Figure Income
by Darren Rowse and Chris Garrett, two highly successful bloggers. Of course, it's highly unlikely that your blog will become the next ProBlogger network, but even so this book has a lot of good tips for both writing and monetizing a blog.
ProBlogger
has a little something for everyone. It doesn't go into major detail about how to write and maintain a successful blog, but it does provide some information about optimizing a blog for search engines, writing posts, cultivating a strong readership, etc. It's a pretty straightforward rundown of all the basics, and definitely information worth noting.
The book also talks about the different ways to monetize a blog. One way is, of course, advertising. The authors aren't big fans of AdSense — their message seems to be that a successful blog can do much better with advertisers that they contract with directly. They also mention affiliate programs, such as Amazon's affiliate program, where you earn a commission for products you sell via your blog or website.
Obviously I'm no stranger to either approach, as I use both AdSense and Amazon ads on my blogs. But I also appreciated that the book addressed another way of earning money from your blog: by using it to attract customers or clients for a product or service that you offer. (Examples:
Doll Stringing Extravaganza
, which I use to attract potential buyers for my short ebook, and my
writing blog
, which is connected to my professional website and helps to build my reputation as a writer and a blogger.) Selling products, services, or even selling yourself as a ghost blogger are often overlooked, but no less valid, ways to monetize your blog.
The book also has a chapter on buying and selling established blogs, but I skipped and/or skimmed most of it. I have no plans of doing either right now. I enjoy my blogs too much to part with them, and I have no interest in buying someone else's!
Overall, this is a great book. It has everything you need to know about maintaining and monetizing a blog, whether you are a newbie or a seasoned blogger. It is also written in a very blog-like style — short, to the point, and easy to read. Of course, not everyone who reads this book is going to go on to earn six figures — in fact I'd say it's highly unlikely — but at the same time, it does give you the information you need to develop a decent blog and earn a respectable side income if you so desire.