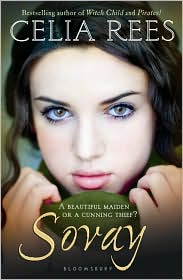 I've had
Sovay
on my list of books to read for several months, ever since I found it in my library's ebook catalog. After reading
Too Good to Be True
, the latest in a number of romance novels on my reading list, I decided I needed something a little different.
If I had to describe
Sovay
really quickly, I would have to call it "Robert Louis Stevenson for girls." It's a wonderfully researched historical adventure about a well-to-do girl from the English countryside in the late 1700s who dresses as a highwayman, originally to test her fiance's loyalty, but later to try to help her father and older brother, sympathizers of the French Revolution. Her adventures take her first to London, where she falls into the clutches of a scheming politician, and finally to France. Everywhere she goes, she and those closest to her are in danger, yet she cannot stop until she finds her father.
Like I said, it's essentially Robert Louis Stevenson for girls. Sovay's travels, her nonstop adventures, and the way the story is told remind me a lot of
Kidnapped
, which isn't as well known as
Treasure Island
but is a fantastic book nonetheless.
Sovay
is also extremely well researched, from the history of the French Revolution and the political climate in England at the time, to the scientific experiments and knowledge of the day.
Although the book is classified as young adult, I think it's got enough history and adventure in it to interest more mature readers. I highly recommend it to anyone who likes historical fiction OR young adult fiction, and I fully intend on checking into the author's other books, as well!