Here's another book that I reviewed several years ago for Reading 4 Writers, my writing-book review blog. I also wrote a teaser review here. The more detailed review from the now-defunct writing blog is below.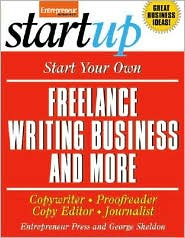 Weeks ago, when I was browsing the business section at
Tattered Cover
, our biggest independent bookstore here in Denver, I ran across this book:
Start Your Own Freelance Writing Business and More
, by the Entrepreneur Press and George Sheldon.
Although I'm not really a startup freelancer anymore, I thought this book might be of interest to some of my readers. It's a pretty handy guide to freelance writers who are just starting out. It covers a lot of topics that newbies often ask me about, such as:
* Getting started
* Daily schedules
* Finding work
* Querying
* Marketing
* Expenses
The book also talks a bit about copyediting and proofreading, and provides a chart with standard copyeditor's marks (something you'll need to know if you want to get into copyediting).
What I found really interesting was what the book had to say about magazines. The author adamantly insists that you should
NOT
write for markets that pay on publication, because they can hold your manuscript without publishing it
or
paying you for however long they want. For a discussion about this hardline approach, please see the post about
pay-on-publication markets
on my regular blog.
If you are a newbie freelance writer, or just wanting to break into the business, this book does a good job of painting a well-rounded picture of everything you need to get started. You can also save a little money if you get this book in
ebook format
.