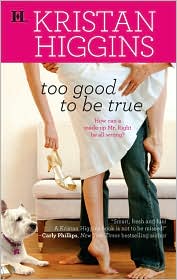 I've actually had my eye on Kristan Higgins's books for some time now, but it was only when I saw my library had a few of them that I decided to go ahead and try one out.
The ebooks at Barnes & Noble used to be a dollar or two cheaper than they are now, I seem to remember, which is what piqued my interest in the first place. Too bad I'll have to pay a little more to get them now... or just continue getting them from the library! Either way, I'm a new fan — this book was so much fun!
Too Good to Be True
is about a woman named Grace who makes up a boyfriend in order to get her family to stop treating her like "poor Grace" — and so that her little sister won't feel bad for dating Grace's ex-fiance. Grace is very noble and wants her sister to be happy, which is pretty amazing, considering.
Anyway, when Callahan the hunky neighbor moves in, their relationship is rocky from the very start. First Grace thinks he's breaking in and calls the cops on him, and then she bashes him over the head with a hockey stick when he comes to her door. Not off to a great start, right? But the entire book is like this — hilarious encounters where you don't know whether to laugh your butt off or feel embarrassed for Grace. Maybe a little of both.
I loved that Grace's character was funny, down-to-earth, and actually pretty strong, unlike the traditional romance novel heroine. And the end is quite a surprise, not to mention totally satisfying. Kristan Higgins is romance for people who don't normally like romance, but who
do
like books that are laugh-out-loud funny, and full of good fun!