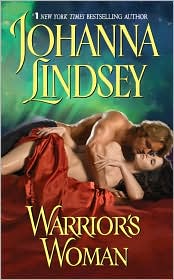 Last month, I wrote a rather
scathing review
of this book. What can I say, other than that I spoke too soon? Even after I wrote the review, I kept trying to read it, and eventually got sucked in.
Warrior's Woman
still won't win any awards in my book, but it didn't turn out to be as bad as I expected. After 50 or 60 pages, I stopped feeling confused about all the creative futuristic words, devices, and so on, and was able to settle in and enjoy the story — more or less.
When I was in high school, I loved Johanna Lindsey's historical romance novels. There was always an undercurrent of male domination that bothered me a bit, but her heroines were strong and fought back, even if they didn't always win those fights. (Now I rather wish they won a little more often. "Domineering male" can't really be so many women's fantasy... can it?) This one was no different.
Oddly enough, a little trashy romance has somewhat whetted my appetite for Johanna Lindsey. I have my eye on another book of hers,
A Man to Call My Own
, although that may have something to do with the fact that it's set on a horse ranch. It's a historical romance, the kind I'm a little more used to from Johanna Lindsey, so I guess we'll find out if it was really the futuristic setting in this one that I didn't like — or that I've outgrown the interests of my teenage years!