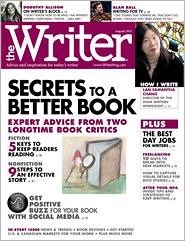 Edit 7/25/2011: The image shown is of the August issue. Sorry, but I had to update my links, and the image of the old issue wasn't available anymore!
If I found the
June issue of The Writer
only about a third useful, the July issue was a solid improvement. I'd say over half of the articles were interesting or useful to me. There seemed to be a digital theme for this issue. There was an article on ebook lending that I found very interesting, as it addressed whether the feature helps or hinders an author's sales; an article on virtual writers conferences; and another, less obviously-related article on how writers can go green. Apparently
The Writer
is also selling digital articles grouped in topics now, so that you can buy digital packets on your chosen subject: fiction writing, screenwriting, etc.
There were also several articles on fiction writing, such as one defining the subgenres of fantasy (I found this useful as a reader, too, since I've wondered how exactly to define subgenres such as urban fantasy and steampunk), and another with tips for revision (that one definitely got bookmarked!). And from a freelancer's standpoint, I especially appreciated the articles on generating website traffic and pricing writing services.
With all the articles that pertain to both my daily work and my other interests (fiction), I've decided to continue my subscription past the 14-day trial. It's been a long time since I've gotten a monthly subscription, but it seems like I'll really like getting it on my Nook (versus a physical magazine in the mail)!