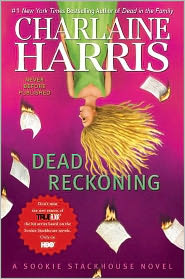 I don't purchase many ebooks, and most of the ones I purchase only cost a few dollars, but for Sookie I was willing to spring for the $12.99 price tag! I later found that I could have gotten
Dead Reckoning
from my library, but you know, I'm not sorry. I love the Sookie Stackhouse books enough to justify owning them (and I do own most of them, in ebook format).
Anyway, I also get a lot of books out from the library, so between my purchased ebooks and the many freebies I've been downloading every month, my list of unread purchased ebooks is getting quite long. I managed to make time to read
Dead Reckoning
, but once I've read the library ebooks I have currently checked out, I'm going to focus on reading from my B&N library for a while.
Anyway...
It's been nearly a year since I read all the
Sookie Stackhouse
books, and I'd been waiting for this one, the eleventh book in the series, for so long that I actually missed the release day by a couple of weeks. And then, of course, I had to finish the library books I had checked out at the time.
And after all that, I blew through
Dead Reckoning
in less than a day... pretty much my track record for these books. Last year, I finished the entire series in a little over a week.
Oh, it's so hard to decide what to write about
Dead Reckoning
, because I don't want to give away too much for those who haven't read the rest of the books yet, but are planning to. But I guess I've already given away in my other reviews that Sookie and Eric eventually get together, so that's no surprise. In this book, relations are getting worse between Eric and Victor, the vampire king's regent who has been appointed to rule Louisiana. Eric and his second-in-command, Pam, are plotting against him, and Sookie (naturally) gets drawn into it.
At the same time, Sookie has someone after her, and it doesn't take her long to find out who: someone from a past book, bent on revenge. There are also a few revelations about Sookie's family and lineage, and nearly all of Sookie's past love interests show up in this book.
There is a lot going on in
Dead Reckoning
, but I couldn't help but feel it was leading up to the next book, setting the stage for some significant changes in Sookie's love life, and maybe her entire life as a whole. It will be interesting to see where the next book goes, though of course it probably won't be out for another year!